Aliens Who Are Of Course Ourselves
DOI
https://doi.org/10.2307/778140.
Abstract
The cultural theorist and novelist Albert Murray once remarked that the mandate of the black intellectual was to provide "technology" to the black community. By technology, Murray didn't mean mechanics, new media, or the Internet. Rather, he defined it as those novel analytic approaches he believed necessary to understanding black life "on a higher level of abstraction." For Murray, this process was one of distillation and complication. He advocated theories of African American existence that, like a blueprint, would be sufficiently robust to reveal the larger patterns of society and do justice to its intricacies and complexities. By Murray's definition, the artist Laylah Ali is a technologist of the highest order. In spite of their striking clarity, her gouache images reflect the contradictions of the human condition.

Ali's work explores the tragic lives of the Greenheads, her hypercephalic, thin-limbed, brown-skinned creations. Using a limited palette, she composes provocative visual fields noticeably lacking in scenery, save the humanoid figures that inhabit them. A master at sleight of hand, she uses bright comic-strip colors in a way that recalls the Sunday funnies; but these images have more in common with sardonic political cartoons, for the figures she depicts inflict all manner of insult and injury on one other. Although Ali provides no script for her images, their despair and anger is unmistakable. But there is no violent haste in her brush stroke; the images are controlled—eerily exact. As befits the work of a technician, these tortured lives are rendered with the sharpest precision.
Description
Reprinted Alondra Nelson (2001) "Aliens Who Are of Course Ourselves," Art Journal, 60:3, 99-101, Taylor and Francis, 2014. DOI:10.1080/00043249.2001.10792083.

Reprinted in ed. Dan Byrne-Smith, Whitechapel: Documents of Contemporary Art: Science Fiction. Cambridge: MIT Press, 2020
File(s)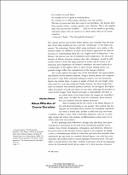 Name
Nelson_Aliens-Who-Are-of-Course-Ourselves_ArtJournal_2001.pdf
Description
First published: Art Journal, 60 (3), 2001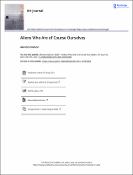 Name
Nelson_Aliens-Who-Are-of-Course-Ourselves_TF_2014.pdf
Description
Reprinted, Taylor Francis, 2014
Acquisition Date
Sep 23, 2023
Acquisition Date
Sep 23, 2023