The Science and Business of Genetic Ancestry Testing
Abstract
Commercially available tests of genetic ancestry have significant scientific limitations, but are resious matters for many test-takers.
Description
First published in: Bolnick, Deborah A., Duana Fullwiley, Troy Duster, Richard S. Cooper, Joan H. Fujimura, Jonathan Kahn, Jay S. Kaufman, Jonathan Marks, Ann Morning, Alondra Nelson, et al. "The Science and Business of Genetic Ancestry Testing." Science 318, no. 5849 (2007): 399–400.
File(s)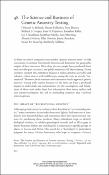 Name
Bolnick-etal_ScienceBusinessGenetic-2018.pdf
Description
In "Beyond Bioethics: Toward a New Biopolitics," edited by Osagie K. Obasogie And Marcy Darnovsky, 1st ed., University of California Press, 2018, 422–27.